THINK SPRING!!!
The Finest Selection of Agricultural Minerals
in North America
Specializing in the BEST
*Broad Elemental Spectrum Tectonic
Rock Dusts.
FOR REMINERALIZATION
STORE
REGIONAL ROCK
BIOCHAR
"May rocks their silence break and speak nationally through a better knowledge of soil for food as the basis of national health and thereby a national strength for the prevention of war and for the simplest road to peace. Our future national strength must rest in our soils" - William Albrecht
Truckload Loose Bulk, Heavy Sack, and
Small Orders Welcomed
. National, International.
Basalt, Granite, Glacial, Feldspar, Hornblende, Mica Schist, Black Shale, Leonardite (Humate), Lignite, Peat, Magnetite, Calcium Silicate, Carbonatite, Expanded Aggregates, Pumice, Lava, Kaolin, Specialty Agrominerals... Approved Using National Organic Program Standards (NOPS)

WHAT IS ROCK DUST LOCAL?

Rock Dust Local is the first company in North America specializing in the delivery of the BEST (Broad Elemental Spectrum Tectonic) rock dusts for remineralization. This means local sourcing and nation-wide delivery of the highest value rock dust products. Our gradation blends are specifically formulated for optimal results in the field. Not all rock dusts are the same. We specialize in evaluation of geologic materials for use in a variety of applications; agriculture, forestry, land management, mitigation, soil or soil-less media, composting, waste management, biomass energy production, feed optimization, fertilizers, and energetics. Any material we offer commercially is fully vetted through geochemical analysis and meets or exceeds NOPS standards for certified organic production. Rock Dust Local has the most extensive source list of any company or organization in the world for this purpose. Our business is to deliver the highest value materials with the "Best Practices" for their use. For the professional grower, processor or manager, Rock Dust Local can provide cost effective materials and management strategies for building remineralization and intensive biologic methods into existing operations. These materials and practices are also highly beneficial in transitioning to Organic certification. We work with the BEST!
GROUNDWORK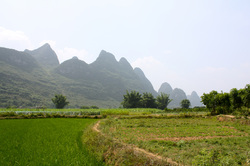 ---
Remineralization Works:
Good Science Documents Results at New Harmony.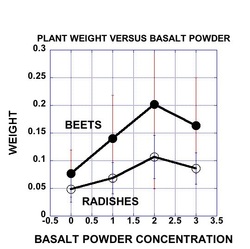 Results from New Harmony Farm plot tests in W. Newbury MA, 2012. Using the Pioneer Valley Basalt BrixBlend - with no other amendments applied - produced a significant increase in plant weight over the controls in the first season; up to a 200% increase documented. Applications of Pioneer Valley Basalt BrixBlend in concentrations exceeding recommended protocols by 100% resulted in a tailing off of weight with no other adverse effects documented. Soil emissions of CO2 diminished against the controls indicating positive benefit of capturing atmospheric CO2, a potent green house gas. Scientific projects continue documenting results of utilizing BEST* Rock Dusts and Bio-char in agriculture. Scientific work at New Harmony Farm continues. www.Newharmonyfarm.com
---
Benefits of Soil Remineralization

WHO BENEFITS? EVERYONE!
Consumers, Growers, Soil Amendment and Fertilizer Manufacturers and Distributors, Mining and Aggregates Producers,
The Global Community

Consumer, Grower, Producer Benefits

Consumers: Remineralization
is beneficial for the environment and contributes to raising the nutritional value of food for human consumption and feed for livestock.
Farms practicing Community Supported Agriculture (CSA) will be contributing to the revitalization of cropland and passing benefits derived from increased nutritional value to the consumer.
A measurable increase in mineral content of plants through
Brix
metering and plant tissue analysis has been associated with increased resistance to disease, drought, and frost as well as a decreased dependency on pesticides, commercial fertilizers and irrigation. This adds up to
sustainable
living. Share this information with your growers, co-ops and grocers.
Growers:
Home
gardeners
, commercial conventional or
USDA Certifiable Organic
growers
producing dairy, fruits, berries, vegetables, mushrooms, herbs, grains, medicinals, meat and poultry, as well as
foresters
producing pulp, biomass fuel, lumber, maple sugar,
land managers, turf managers, landscapers
... soil remineralization provides a foundation of fertility in a cost effective and sustainable method. If you are a
commercial grower considering transitioning to the certified USDA Organic
market we can help. Contact us. Our materials and practices are certifiable.
Soil Amendment Manufacturers and Distributors:
If you are a
producer or distributor of soil amendments or biomass materials
such as
compost
, potting soil, mulch, seedling starter mixes for horticulture, greenhouse growing mediums, or soil-less growing mediums for aquaculture, these materials may be incorporated into your value-added products. Market these products as
"Remineralized"
. We can work with you to create
value-added blends
or
single source packaged goods
for wholesale or retail starting with local or regional materials. If you want to work with us we want to hear from you!
Contact.
---
The Content of this website is copyrighted 2013 by Rock Dust Local, LLC or by the authors of the materials cited.
All domestic and international copyright laws apply.